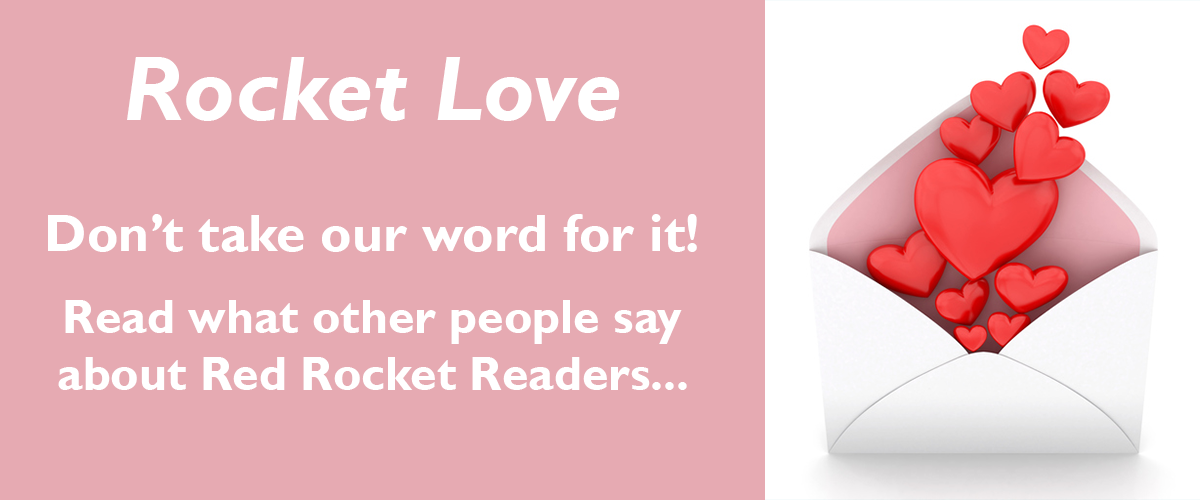 The stories engage the readers and they are one of the most sought after books in home reading. I like the engagement of the boys in my class with them, the print because the font is right for young students – they recognize the letters as printed letters and not fancy stuff. I also like the graphics. They are more boy friendly than any other books we have purchased.Beth Arnott Waterloo Region District, Ontario, Canada
Accumulating research indicates that, for many children, learning the alphabet and letter-sound correspondences is a difficult task.

Interesting and engaging alphabet books such as the Red Rocket Readers Key Letter [Pre-Reading] books are a wonderful tool for teachers who wish to help children learn these key concepts and pave their way for becoming successful readers.Shayne B. Piasta, Ph.D. The Ohio State University School of Teaching & Learning Preschool Language & Literacy Lab Columbus, Ohio, USA
The new Advanced Fluency titles from Red Rocket Readers are great in middle school classrooms. The non-fiction texts can be springboards for narratives. Students can add factual details to fictional writing. Colorful graphics invite reluctant readers to explore new topics. Welcome new resource for teachers and tutors.

I particularly commend you for including the Teacher Talk, Key Words and Teaching Plan inside the front cover of each booklet. This keeps the teacher from having to refer to another publication as s/he prepares to teach. Having that information there also confirms to parents, tutors, and even students that teachers do, in fact, plan before introducing a piece of literature to students!

Kudos too, for including table of contents, glossaries and indices. Having them, even in such slender books, provides additional teaching tools for those who want to demonstrate to readers how they can find specific information inside. Understanding how books can be organized is an important skill for readers at all levels.Anna J. Small Roseboro Author of TEACHING MIDDLE SCHOOL LANGUAGE ARTS: Incorporating Twenty-first Century Literacies (April, 2010).
I have used Red Rocket Readers very successfully with my clients for over 5 years now. My interest in them is two-fold. Firstly, I'm a fiercely loyal "kiwi" who was educated with a Teaching degree in New Zealand, and a Graduate M. Ed degree in America. I know the benefit of excellent reading material that allows student success on "their" level.

Students love the size of print that decreases with the various level books affording them higher level fluency, and gives them a feeling of enormous confidence and pride upon completion. In fact, they can't wait to get the next one! The colorful pictures engage them in the story line and offer comical relief to supplement the text.

The most important aspect of the books is the language content. Student's fluency is extended with a vocabulary that enhances conversational dialogue and critical thinking, and affords them opportunities to reason and gain satisfaction. Learning different children become underserved in the literary sense which damages and under-serves their innate intellectual capabilities. Their verbal acuity often far exceeds their reading capabilities and Red Rocket Readers provide an excellent resource for them to gain self esteem and success. Jennifer A Robinson, M.Ed. Texas USA
After purchasing some of your texts with grant money for use in my Reading Recovery program, I began to see excitement in students' eyes as soon as I placed the new book in front of them. The colorful, cartoon-like illustrations and the high-quality slick covers energized the young readers even before I had said a word about the book itself.

After reading No Bridge, Jason took the book home to reread to his family. He didn't return it the next day or the day after that. When I questioned him about the location of the book, he said, "I love it too much to give it back. It's the best book, because I can read now!" I was overjoyed to give that book to him, but I was shocked at his reaction! He acted like I had given him a priceless gift! When talking about this event with colleagues, one friend said, "You did give him a priceless gift, the gift of reading." I smiled and went online that very afternoon to order a six-pack of No Bridge for other students who I knew would need a special book to help spark the love of reading. I'm patiently waiting for others to follow in Jason's footsteps. Thanks again for producing high-quality, easily readable, fun-filled texts for my students.Mr. Joey Carter, M. Ed. & NBCT in Early/Middle Literacy Reading Interventionist and Reading Recovery Teacher Nevitt Forest Community School of Innovation Anderson, South Carolina, USA
We've been using Red Rocket Readers in Year 1 and Year 2. We're very impressed with the illustrations and repetitive text in both the fiction and non-fiction texts. The children really enjoy them. We're looking forward to extending them in to Year 3. Annaleene Ray Primary 2 teacher Woodburn Primary School, Scotland
I really like the combination of high interest stories with great use of high frequency words. Children learn new words at a steady pace whilst really enjoying the stories.Elizabeth Grayston Teacher, USA
My students and I have enjoyed the quality of the content, ease of reading, and the supportive teaching tools that the Red Rocket Readers provide.Anne Simpson Professor, Department of Reading, Texas Woman's University, USA
---
I really love that Red Rocket Readers have the teacher tools built into the front of each book. It's all been thought of. They've clearly been created by someone with a strong insight to teaching balanced literacy.Suzanne Miller Professor, Education Department, Point Park University, Pittsburgh.
The best informational readers for young children I've seen.Mary Fried Reading Recovery Trainer, Ohio, USA
---
Red Rocket Readers immediately appealed to me because of the colourful, humorous covers… The tempting stories interest and involve children – they identify with and interact with the text. The varied stories interest even my older readers, reading well below their chronological age.Christine Whibley Resource Teacher of Literacy Papakura Normal School, Auckland, New Zealand
It is great to see quality non-fiction texts for our younger readers. The texts are colorful, interesting and focus on the development of early reading strategies. The repetitive language patterns throughout many of the texts, the placement of the text, and the strong match between text and illustration, all support emergent and early readers.

I would strongly recommend these books for both guided and independent reading in the early grades. These book engage readers.

I am delighted to see the broad banding of levels and use of the terms emergent, early and fluent, and the accompanying correlation chart to link to other leveling systems.Sheena Hervey, Educational Director A.U.S.S.I.E. Australian United States Services in Education
At our school we run a Readers at Risk programme for children who need that little bit of extra help. Every morning a mixture of parents, grandparents, teachers and student tutors meet in the library to listen to children read.

We use the Red Rocket Series for this programme. We find the illustrations and text format just right for a group like this. Also both the fiction and non fiction books have interesting stories or information that allow us to have good converations about what is happening.

Many of our children have English as a second language and the subject of most books allows us the opportunity to introduce new vocabulary to our children. Including traditional stories is a brilliant move.

We will continue to read and enjoy this series.Norma Ebsworth Associate Principal, Marshall Laing Primary Auckland, New Zealand
These books are wonderful for my special education students. They like the illustrations and stories and I like the fact that they are learning to enjoy reading! My boys love these books – especially the non-fiction. They have always been so frustrated in their learning to read efforts that it is a joy to watch them read and enjoy these books.

I love the variety of stories and non-fiction available at each level. I have students over a wide range of reading levels and it is easy to pick out books that are just right for their reading abilities.

Carol Eddy Teacher, Virginia Beach, Virginia, USA
I love the way the books are presented. Bright, colorful illustrations. Both fiction and non fiction books at each level too. I like the way the books are leveled. It is easy to pair up the right book with the right reader! You have taken the "guess work " out of it!

My class absolutely loved the Red Rocket Reader this year. These books were by far the number one "free choice" books that the kids read from. In fact, the shelves were often low on choices, due to the fact that the kids had soooo many of these books in their desks at all times that they wanted to read! That's a GOOD problem, especially for beginning readers!!! (I had to remind them to share the Red Rocket Readers. 🙂

I have and would recommend your Red Rocket Readers to anyone that is looking for quality leveled books for their classroom. These books really got my kids excited to learn to read!Audrey Mattson, First Grade Teacher, St Johns School, Lincoln Nebraska, USA.
I like the teaching notes on the inside cover and also the lovely illustrations and interesting story lines.

I have started using these books with very reluctant readers. they love them and are finally getting a sense of achievement.Ann McHugh, Rockfield National School, Coolaney, Co. Sligo Ireland
The stories, although simple, really appeal to beginning readers, and particularly boys. I enjoy the humour in the stories!!! I love them, and have ordered more!

I often listen to children read the same book many times in a day. I find it difficult with many other series.

Gillian Smith, Forest Glen Primary School, Perth, Australia.
The loveable characters, the child friendly stories, the clear print, the clear and easily followed progressions (ie the fact that it is written by teachers for teachers).

I am a literacy teacher at a decile one school working with mainly Polynesian children. Many of the stories are within their range of experience and they particularly love the cheeky antics of Max Monkey.Anne Wilson, Koru School, Auckland, New Zealand